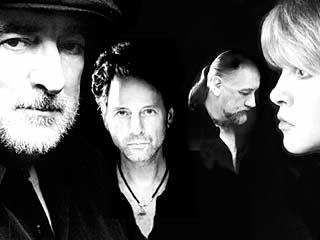 "Mac," in this case, of course, refers to the once-in-a-lifetime line-up of talent that single-handedly defined the term "supergroup" now and forever. Mick Fleetwood, John McVie, Christine McVie, Stevie Nicks and Lindsey Buckingham are, and always will be, The Fleetwood Mac of recordscores of millions of records as a matter of fact, spanning one of the most wildly successful, and endlessly inventive, creative conspiracies in modern musical history.
It's a saga that continues with the Reprise Records release of The Dance, the new Fleetwood Mac album that gives fresh meaning to the term "long-awaited." Recorded live for an MTV special, The Dance highlights new renditions of 13 Mac classics, from "Dreams" to "Rhiannon," "Don't Stop" to "Tusk" as well as the such key tracks as "The Chain" and "Silver Springs."
Proving the Mac magic is as potent as ever, The Dance, produced by Lindsey Buckingham and Elliot Schiener, also features four new songs, including the Christine McVie composition "Temporary One," "Sweet Girl" by Stevie Nicks and two new Buckingham tracks, "Bleed To Love Her" and "My Little Demon." Catapulting straight from the studio to the stage, Fleetwood Mac embark on an extensive U.S. tour this fall, bringing the Mac magic to audiences coast to coast.
After a moment to catch our collective breath, it's fitting to note that the reunion of Fleetwood Mac is occurring on the twenty year anniversary of Rumours, the most influential and innovative album of their career, and an enduring landmark of the rock era.
But Fleetwood Mac redux is about more than simply a fond look back. It's about artists and writers, musical spark plugs and men and women of amazing ability, picking up precisely where they left off, minus a mound of emotional luggage and with, as Mick Fleetwood puts it, "an incredible amount of creative gas in the tank."
Not that Mac's individual components have been experiencing anything like a fuel shortage since they last recorded together, ten years ago. While the rock solid rhythm section of Fleetwood & McVie continued to lift high the venerable Fleetwood Mac banner with various incarnations of the group, Lindsey, Stevie and Christine have all nurtured brilliant solo careers, as well as working in various combinations on one-off projects, such as the Stevie/Lindsey collaboration on the hit 1995 Twister soundtrack. And, while it might have taken a special request by the President of the United States to reconvene the band for an appearance at the 1992 Inaugural Ball, performing Clinton's campaign song, "Don't Stop (Thinking About Tomorrow)," the notion of a full-blown reunion has been in the air almost from the moment they disbanded.
"We've been asked many times over the years to reform," explains Mick, "but the time was never right. I think we were all still in the process of growing up and discovering that the things that had once pulled us apart didn't seem nearly as important anymore. The level of success we had together was, quite simply, overwhelming. We've had the opportunity to step back and get some perspective, to realize that what was important all along was the music."
The impetus for that discovery came from several directions. "The 20th anniversary of Rumours gave us a vantage point to look backand forward," asserts John. "We realized that we had created this tremendous body of work and that we wanted to celebrate that accomplishment. 1997 also marks the 30th anniversary of the founding of the original Fleetwood Mac, so the occasion seemed especially auspicious for that reason as well."
What was needed was a suitable creative catalyst, provided in timely fashion by Lindsey's latest solo project. "I'd been working on new material since late 1995," Lindsey recounts, "when I happened to run into Mick one day, it seemed like he'd been through some changes and I know I'd done some moving on myself since we'd last met. We'd lived through such a musical soap opera and just the fact that we'd survived gave us something in common."
More in common, as it turned out, than just shared history, with Lindsey providing the vital musical link that reconnected the group. "We started working together on some of his songs," continues Mick, "and immediately sparked off each other. It's like learning to ride a bike; once you've got it you never forget. While the chemistry between the group is hard to pin down, it's unmistakable once you're a part of it."
"We worked together, just the two of us, through the summer of last year," recounts Lindsey, "and when it came time to do some bass parts, I asked Mick who he thought we should use. I should have known what his answer would be."
With John joining them in the studio, the potential, unspoken but palpable, began to build, gathering momentum when Lindsey asked Christine to come in and sing harmonies. "The magic, the energy, the pure joy of working together was stronger than ever," recounts Lindsey. "There we were," adds Mick, with a laugh, "all four of us in the control room, really enjoying each other's company."
"It was an odd feeling, being back together, but it was obvious we were having fun," is how Christine remembers the slow approach toward the inevitable. "I'd been doing some writing and demos for a new solo album, but had really stepped back from music for the time being, returning to England and restoring a huge, sixteenth century house my husband and I had bought in the country. I was very content with my life, but at the same time, I must admit, I felt the pull."
The pull also exerted its influence on the fifth Mac member. "None of us really had to do this," Stevie remarks. "We had our separate lives and careers. But the chance to work together again, without all the conflicts that had once made things so difficult, was hard to resist. I guess it's always been a dream, somewhere in the back of my mind, that we would one day get together again. The Rumours anniversary was a perfect excuse, but what's more important is how we've each grown. I'd always loved being a part of this band, feeling that extraordinary energy that we could create, and now there's nothing to interfere with the flow of that energy."
The quintet began playing together, with the notion of reuniting put, for the time being, on a back burner. "It was just great to play again," asserts John. "This configuration was always my favorite Fleetwood Mac line-up and I think the whole was always greater then the sum of its parts. It was great to be part of that whole again."
"We were playing better than I ever remembered," adds Mick. "After we had a chance to musically say hello to each other, we found it astoundingly easy to pick up where we left off."
"My only condition for coming back together was that we could have some fun," says Christine. "The rehearsals proved that we could, and that we were tighter and better than we'd ever been. It was tremendously gratifying."
"I think a lot of the creativity we were feeling had come from the healing we'd all experienced," opines Stevie. "We were friends who had been away for a long time and this reunion was not just musical, it was personal."
Questions of repertoire were resolved almost before they came up. "Naturally we did the material we were familiar with," explains John. "It was like our fingers were just flying to the notes. We worked up some new arrangements, but we also wanted to try out some fresh stuff. Luckily, we had no shortage of new material to try."
Christine: "Each one of us brought in a new song and hearing them played by this particular combination of musicians is like no other experience I know. We understand each otherwhere to go and how to get there, even before it's spoken."
What was also left almost unspoken was the fact that, from various paths both personal and professional, Fleetwood Mac had at last found themselves together again. "Of course there's a business aspect to all this," says Mick, "but anyone who's been around this process can tell you that it really is the music that's brought us back."
"I care about these people," is how Lindsey puts it. "And I enjoy being around them, now more than ever. Fleetwood Mac is a complicated scheme, a careful balancing act and when we get it right, there's nothing quite like it."
"Even after we decided to formalize what we'd been doing as 'a reunion,'" adds John, "there was still an attitude of taking things one day at a time. Today is wonderful. Tomorrow will take care of itself."
What tomorrow may bring for Fleetwood Mac is anyone's guess. But, with the release of The Dance, the accompanying MTV special and their upcoming tour, the prospects are positively brilliant for the immediate future.
"This is all very exciting, but at the same time very familiar," muses Stevie. "When we get together something amazing happens. It takes on a life of its own."
The Mac Is Back. Even better than before.
Visit the official Fleetwood Mac website at fleetwoodmac.com and Mick's official site at mickfleetwood.com

Fleetwood Mac Discography
Peter Green's Fleetwood Mac (1968)
Mr. Wonderful (1968)
English Rose (1969)
Fleetwood Mac In Chicago (1969)
The Pious Bird Of Good Omen (1969)
Then Play On (1969)
Kiln House (1970)
Greatest Hits (1971)
Future Games (1971)
The Original Fleetwood Mac (1971)
Bare Trees (1972)
Penguin (1973)
Mystery To Me (1973)
Heroes Are Hard To Find (1974)
Fleetwood Mac (1975)
Rumours (1977)
Tusk (1979)
Live (1980)
Mirage (1982)
Tango In The Night (1987)
Greatest Hits (1988)
Behind The Mask (1990)
25 Years - The Chain (1992)
Time (1995)
The Dance (1997)
Rumours DVD-Audio (2001)